BROOKE PANKHURST, O.D.
Resident in Ocular Disease and Refractive Surgery                                                                                                                                            
Dr. Brooke Pankhurst joined Clay-Rhynes Eye Clinic and RGB Eye Associates in June 2022 as our Resident Optometric Physician in Ocular Disease and Refractive Surgery. A native of Burns Flat,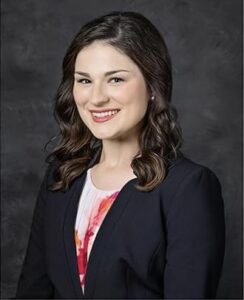 OK, Dr. Pankhurst received her Bachelor of Science degree in Cell and Molecular Biology in May 2018 at Northeastern Oklahoma State University located in Tahlequah, OK. She was awarded her Doctorate in May 2022 at NSU College of Optometry where she received awards in Clinical Excellence and Excellence in Pediatric Optometry. During her time at the Oklahoma College of Optometry, she was an active member of the Student Volunteer Optometric Services to Humanity (SVOSH), American Optometric Student Association (AOSA), American Optometric Association (AOA), and a member of the Beta Sigma Kappa International Optometric Honor Fraternity. In her spare time, Dr. Pankhurst enjoys spending time with her husband, Rocklin and her dog, Sam. She also enjoys playing the piano, travelling, and watching movies.